Salo Art Museum
This Museum of Art is set in Salo, at Lake Garda, and it was founded in 1983. The museum displays an impressive collection of paintings by Italian artists.
Name:

Salo Art Museum (Civica Raccolta del Disegno)

Address:

Salo, Brescia, Italy

Telephone:

0039 0365 296863

Email:

Website:
Grotte di Catullo of Sirmione
Grotte di Catullo are the ruins of a grand Roman Villa. The museum exhibits information about the life of the Latin poet Catullus. In Sirmione, the name of the poet is called forth by yet another landmark, namely, a statue.
Name:

Grotte di Catullo

Address:

Piazzale Orti Manara, 25019, Sirmione, Brescia, Italy

Telephone:

0039 0309 16157
Roman Ruins of Sirmione
The most important Roman ruins in North Italy are located in Sirmione. The Roman edifices were built in the first century AD, and today their ruins can still be seen. Another important tourist attraction here refers to the thermal baths and spas which were founded, they too, in the Roman era. Nowadays, they are a destination for thousands of tourists who come coming from all over the world in order to ease sundry conditions.
Name:

Roman Ruins of Sirmione

Address:

Sirmione, Brescia, Italy
Roman Ruins of Desenzano
Though not as important at the ruins in Sirmione, the old town of Desenzano is worth mentioning, given its historical background. It was built in the 3rd century and it attracts a large flow of visitors and tourists from Lake Garda. At Desenzano, one can see the best preserved mosaics in the world.
Name:

Roman Ruins of Desenzano

Address:

Desenzano, Brescia, Italy
Lake Garda Castles and Fortresses
There are many castles and fortresses along the shore of Lake Garda, and the most imposing of all refers to Rocca Scaligera of Sirmione. The access to this attraction is quite peculiar, being made by means of a bridge which must be crossed. After crossing the bridge, tourists must get trough the old city walls. Other castles almost perfectly preserved until today are the ones in Torri del Benaco, Malcesine, Peschiera and Desenzano.
First World War Museum (1915/1918), Capovalle
Name:

First World War Museum:

Address:

Capovalle, Brescia, Italy

Telephone:

0039 0365 750021
Aloisiano History Museum, Castiglione delle Stiviere
Name:

Aloisiano History Museum

Address:

Castiglione delle Stiviere, Mantua, Italy

Telephone:

0039 0376 638062
Sabbia Museum of Archeology, Gavardo
Name:

Sabbia Museum of Archeology

Address:

Gavardo, Brescia, Italy

Telephone:

0039 0365 371474
Molina di Ledro Pile Dwelling Museum
Name:

Molina di Ledro Pile Dwelling Museum

Address:

Molina di Ledro, Trento, Italy

Telephone:

0039 0464 508182
Riva del Garda Museum
Name:

Riva del Garda Museum

Address:

Riva del Garda, Trento, Italy

Telephone:

0039 0464 573869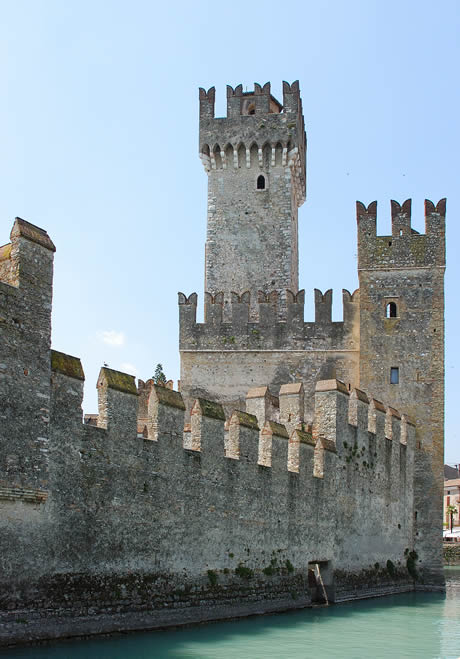 Castle of Sirmione at Lake Garda
Go to top