Lake Garda began to form in the quaternary age, approximately 1.5 million years ago, from a glacier. The large mass of ice slid to the base of the mountains, starting to melt into a depression and forming the largest natural freshwater lake in Italy. At present, the lake has a circumference of 144 kilometers and a total surface area of 370 square kilometers.
The human history at Lake Garda began around 300 BC, when the lake became part of the Roman Empire. After eight centuries of Roman dominion, the lake and its surrounding villages fell to the rule and domination of the Lombard people, of Franks, Spaniards and Austrians. The greatest and most famous battle ever fought near Lake Garda was the Battle of Solferino, in 1859, when more then 25,000 soldiers lost their lives and 20,000 were wounded. Austrians, Frenchmen and Italians took part to this battle. The Austrians lost the battle and were subsequently forced to retreat.
After the Battle of Solferino, the Treaty of Villafranca was signed, but Italians where not satisfied with the enforced conditions. Therefore, a new war began, and it lasted 7 years, ending with the unification under King Vittorio Emanuele II.
The Second World War affected the region of Lake Garda as well. Here, big political decisions have been made, influencing the whole Italian and European history of the 20th century. In 1938, Mussolini signed a peace treaty with Hitler and after Benito Mussolini's stepping down from power, German troops began the invasion of Italy. Mussolini went to Lake Garda, which still was under German occupation. The Salo Republic, a puppet state of the Nazi Germany, was founded, Mussolini being designated as ruler.
Towards the end of the war, Mussolini tried to escape, but he was captured by the allied troops and executed near Lake Garda.
The tourism boom occurred subsequently to World War Two. The genuine natural beauty of the area started to attract millions of tourists, the first tourist resort at Lake Garda being Gardone with its historical hotel, Grand Hotel Gardone Riviera. Nowadays there are hundreds of hotels in all the small towns and resorts around Lake Garda. There are many luxury villas hosting highly demanding tourists, as well as hostels for the young and camping sites for tourists who intend to enjoy a vacation in the very bosom of nature.
At present, tourists come to Lake Garda from all corners of the world: from Germany, France, Switzerland, the Netherlands, USA, etc. The number of Italian tourists is incredibly high, plenty of them having built their holiday houses or villas nearby the lake.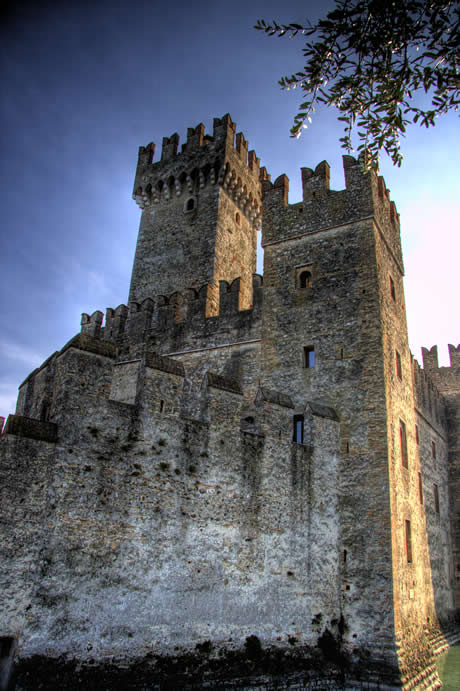 Medieval Castle in Sirmione, Lake Garda
Go to top