Lake Garda is the largest Italian lake and it is located in North Italy, at the foot of the Alps. Just 30 kilometers from Verona, 100 kilometers from Milan and 130 kilometers from Venice, Lake Garda is set at the meeting point of certain important roads and railroads, being very accessible by car or by train.
Nature and environment
Lake Garda unveils a rainbow of colors, from the marine blue of its waters to the lush greenery of the hills and mountains surrounding it and to the golden sand of its dolomite beaches.
The lake is surrounded by forested areas and luxurious green gardens, all this greenery consisting of lemon trees, oleanders, magnolias, vineyards and old olive trees. Is is precisely in this region that a range of worldwide famous wines and one of the best olive oils in Italy are produced.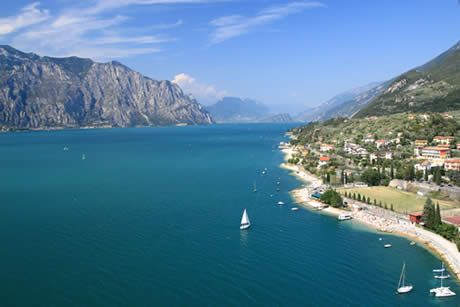 Lake Garda in Italy
Discover
Many picturesque villages, old towns with huge historical background and replete with historical edifices stretch in the area, waiting to be discovered. Here, tourists can explore the cliffs of the lake or climb the steep mountains in the northern part of the lake. There are plenty of entertainment and leisure opportunities at Lake Garda, such as visiting the fun and theme parks or the botanical gardens which stand out as a perfect place to escape the hustle of a large city.
Sports
For people keen on sports, Lake Garda is an ideal destination which yields huge opportunities to practice a wide range of sports, with a special emphasis on water sports. Lake Garda hosts important nautical sports competitions every year, and it has built a reputation for the excellent and wholesome conditions for surfing , windsurfing, kite surfing, scuba diving and even paragliding. Tourists can also jog on the promenades parallel to the lake shore, or they can rent a bike and go mountain-biking. Horse riding is possible by means of the horse riding clubs in Castelnuovo del Garda, Lazise, Torbole or Riva del Garda.
Shopping
Go shopping! The tourist resorts around the lake are perfect places to go and enjoy shopping, in particular for buying quality clothing. There are no large malls here, but visitors will definitely appreciate the plethora of small shops and boutiques of famous fashion designers in Italy and Europe. The narrow streets are packed with people shopping for fine clothes and souvenirs.
Nightlife and disco clubs
Nightlife has plenty to offer to all tourists of all ages. There are plenty of terraces, cafes, pubs, bars and restaurants at Lake Garda. People who are more of a wild party type will find discos and clubs with famous DJs performing, as a rule, during the summer season.
Information
This online travel guide will help visitors discover Lake Garda and plan their holiday in one of the tourist resorts around the lake, as well as it gives them the opportunity to learn how to get to Lake Garda. They will find information on the tourist attractions and on the main tourist objectives at Garda, as well as information related to the weather forecast and conditions, maps and photos, videos.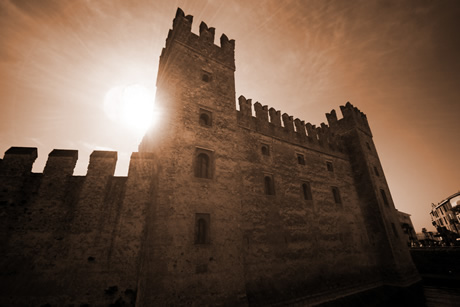 Sirmione Castle at Lake Garda
Go to top